Acrylic case and I/O expansion upgrade
$75.00
The version 1.4 upgrade kits are no longer available.
Out of stock
Description
This kit will upgrade your version 1.4 kit (with bamboo case – purchased between Jan 2018 and July 2019) to the new blue and gray acrylic case with I/O expansion card. For installation instructions, see this page. After you receive your upgrade kit, you MUST return to this page for upgrade instructions.
Kit includes bolt-together acrylic case and I/O expansion circuit board with necessary components. Instructions for the upgrade can be downloaded here.
This upgrade is designed for version 1.4 of the Altair-Duino kit (with connectors for expansion board.)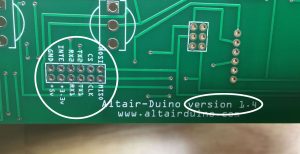 Your board will show the version number on the lower right.
Please note: installing the I/O expansion will require the removal of your Bluetooth module.  If you use (and want to continue using) your Bluetooth module, there is a method of keeping both Bluetooth and the VT100 emulator detailed in the upgrade instructions.
Most version 1.4 kits included a 30cm Micro USB extension cable, however, some early versions of the kit did not.  If you need one of these cables, you can add it when you order this upgrade kit.  You can also find them on Amazon and eBay.
Notice
This upgrade includes desoldering components, cutting a circuit board trace, and modifying a connector. Please read the upgrade instructions and determine if this is a project you want to undertake.
---
View Upgrade Instructions
Additional information
| | |
| --- | --- |
| Shipping Weight | 40 oz |
| Shipping Dimensions | 15 × 6 × 2 in |