Altair 8800 Emulator Kit
$179.95 – $259.95
Description
For a limited time, the Altair-Duino Pro kit will come with an Altair 8800b faceplate! The kit operates the same, but has different front panel graphics and flat toggle switches. I see why MITS changed to flat handle toggles, they operate much more smoothly and effortlessly. Along with the new graphics and toggles, the kits will also come with a genuine Italian-made Arduino Due. The original kit with the 8800 front panel will return in a few months.
There are a few minor construction differences in the 8800b version of the kit. You can read the 8800b addendum here
Now available in two models: The low-profile, display shelf friendly "Altair-Duino Standard" with a clear rear panel. The standard version has a USB serial port, WiFi Telnet connectivity, and a RS232 DB9 serial port. Also available, the upgraded "Altair-Duino Pro" with a large bolt-together acrylic case and an newly designed I/O expansion that includes Geoff Graham's VT100 emulator, RS232 DB9 serial port, audio jack, SD card slot, and power jack.
The VT100 emulator now features a USB keyboard port!
The Pro version includes a spiral-bound, full color assembly manual.
This kit comes with a micro SD card pre-loaded with disk images including Altair DOS, Altair BASIC, and CP/M with plenty of useful and entertaining programs (at least for the late 70s).
This is a beginner to intermediate kit for people with experience soldering. It can be built in approximately 4-5 hours. Please read the Build Instructions to familiarize yourself with the construction of the kit, and don't be afraid to visit the forum with questions. IMPORTANT: The instructions page contains addendums that are not in the instruction manual. Read these before beginning construction.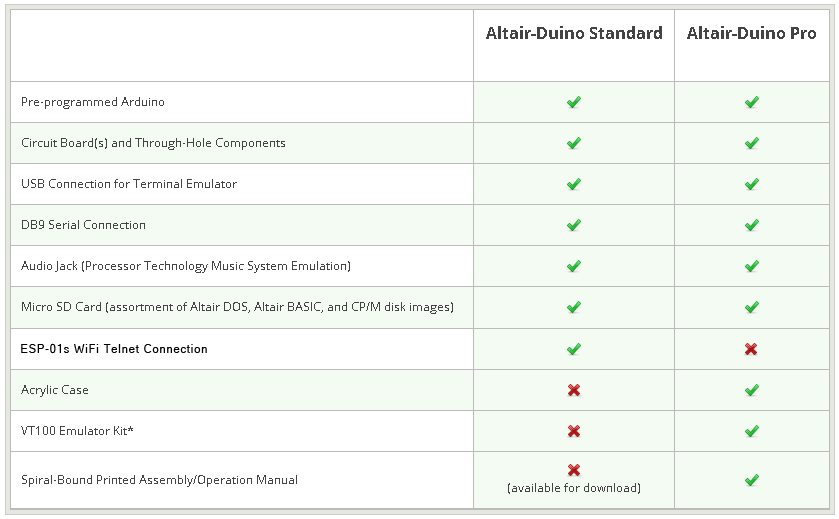 *The VT100 emulator board now features a USB keyboard connector instead of a PS/2 connector.
International Customers (outside the USA):
By default his kit includes a 9 volt power adapter made to connect to a Type A electrical socket (used in the USA, Canada, Mexico & Japan). You can choose to receive a 9 volt EU power adapter. If you want to use another power adapter, make sure it has a 5.5×2.1mm plug and provides 9v-12v at 1 amp. You can also power the Altair-Duino from a USB port.
Also, please be aware that your country or municipality may charge taxes or import fees. As the recipient, you are responsible for those charges. I have no way to know what those charges may be.
Please check shipping charges in your cart before checkout. Unfortunately the Pro kit exceeds the weight allowable for First Class parcel shipping, and may increase international shipping costs greatly. Compare shipping costs between the Standard and Pro kit before ordering.

Additional information
| | |
| --- | --- |
| Shipping Weight | 45 oz |
| Shipping Dimensions | 15 × 6 × 3 in |
| Kit Type | Pro, Standard |