Altair-Duino Experimenter
$199.95
Kits will be back in stock in a few days, sign up for an email notification.
Out of stock
Receive an automated email when stock is available
Description
Limited time: $20 off!
The Altair-Dunio Experimenter is an open-case version of the Altair-Duino Pro which allows for easy access to the expansion cards.
The kit includes an easily removable backplane that attaches the rear of the main circuit board with a 26-pin connector. It allows for the addition of up to five expansion cards and includes a 5v power regulator to provide additional power to the expansion cards (when power is supplied through the included power adapter.)
Expansion card designs and notes are available at David Hansel's Github page. Visit this page for more information about expansion cards.
What is included in the Altair-Duino Experimenter kit?
This kit includes everything you need to build a fully-functional emulator of the historic Altair 8800 computer:
A pre-programmed genuine Arduino Due
Three custom-designed printed circuit boards: main pc board, backplane pc board, daughter board with DE9 serial connector, power jack, SD card slot, and Processor Technology Music System output jack
All through-hole components: resistors, capacitors, DIP sockets, LEDs, switches, etc.
ESP-01s module for WiFi telnet connectivity
Screen printed and laser cut reproduction of the iconic Altair 8800 front panel
Micro SD card with disk images including Altair DOS, Altair BASIC, CP/M, and Time-Sharing BASIC
Power supply, USB cable, and all required hardware
Bound and printed instruction/operation manual
It can connect to a standard ASCII serial terminal, or you can connect via USB or WiFi and use a serial emulator (PuTTY or Tera Term) on your laptop. Assembly will require intermediate soldering skills and can be completed in 4-5 hours.
The kit also includes one expansion card kit to get you started, the LED Output Register that is programmable through BASIC.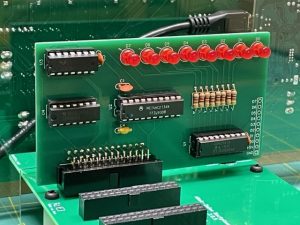 How is this different than the Altair-Duino Pro?
The Altair-Duino Pro is similar, but includes a laser cut acrylic case and a VT-100 emulator (with VGA and USB keyboard connections.)
What is the difference between the Altair-Duino Pro and the Altair-Duino Experimenter?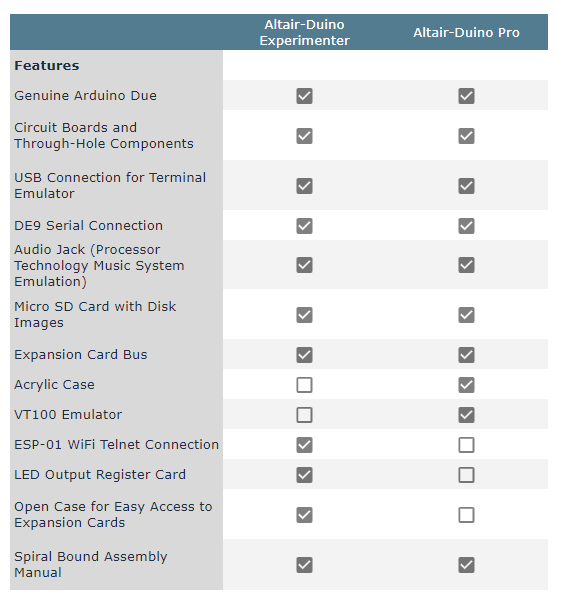 This is a beginner to intermediate kit for people with experience soldering. It can be built in approximately 4-5 hours. Please read the Build Instructions to familiarize yourself with the construction of the kit, and don't be afraid to visit the forum with questions.