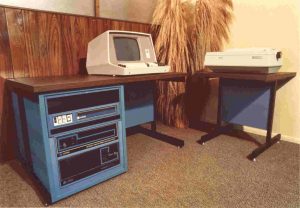 The MITS 300/55 Business System was the first system created by Pertec after their acquisition of MITS in 1977. This system was an attempt to move the Altair from the realm of hobbyists to business computing. The system sold for $15,950 and included the brand new Altair 88-HDSK hard disk.  Apparently, this system was prone to overheating and had a very short life span.
Requirements
MicroSD Card with Altair disk images (available
here
.)
Terminal software (
Putty
is highly recommended.)
Step-by-Step:
Stop whatever the Altair is doing – raise "Stop", then raise "Reset".
To get a list of Hard Disk images available: switch 13 up, switch 12 up, all other switches down.  Aux2 down will display directory of Hard Disk images.
To mount emulated hard disk 3 on platter 0: switch 13 up, switch 12 up, switch 1 up, switch 0 up (all other switches down).
AUX2 down to load hard disk.
Terminal will say "[mounted hard disk image 'HDSK03.DSK: Mike Douglas' 88-HDSK CP/M' in platter 0 of unit 1]"
To load Hard Disk Boot ROM and run – switch 3 up, switch 2 up, switch 1 up (all others down).
AUX1 down. This will install the Hard Disk Boot ROM at 0xFC00 and immediately start it. If a bootable image has been mounted it should automatically start now. The Hard Disk Boot ROM always boots from unit 1, platter 0.
The terminal will show:
63k CP/M 2.2 ver 1.5
For MITS 88-HDSK
You are now at the A> prompt for CP/M and can obtain a directory by typing "DIR".